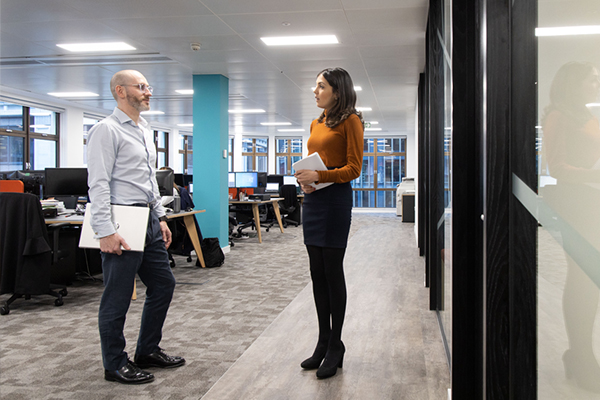 Helping insurers achieve the best solution with less incidence of litigation
The professional expertise and experience of our team allow us to offer an integrated claims handling service for professions claims. By ensuring that we have all the necessary skills in-house, including qualified solicitors and accountants, we provide a multi-disciplinary approach that minimises spend on other professional input.
When dealing with these claims, we are always aware that the insured's business may be at stake. We also seek to address any reputational issues effectively. As fellow professionals we are able to understand how an insured's problem has arisen and then engage with them to resolve the issue.
Our professionals provide practical assistance and guidance to insureds and insurers in the pre-action stages of litigation. This includes advice on navigating the Pre-Action Protocol processes for resolving disputes under the Civil Procedure Rules and either drafting correspondence on behalf of insureds or engaging directly with claimants and/or their solicitors.
We frequently participate in mediations and other forms of ADR where this is the best way of resolving a claim. Our experienced staff have excellent communication skills and will defend the insured's position with tact and tenacity. We are happy to take a lead or supporting role depending on the requirements of the case.
Our expertise comes from our professional qualifications and our experience, which is long-standing and wide-ranging.
We deal with claims involving
Accountants
IFAs
Investment and fund managers
Pensions professionals
Misselling reviews and FCA investigations
Insurance brokers
Solicitors
IT and media professionals
Public officials
We help defend third party claims against insureds. We also advise on policy coverage having expertise in issues such as year of attachment, the scope of cover under the insuring clause, aggregation, mitigation costs and the application of exclusions.
We take a proactive approach to the investigation and handling of claims aimed at achieving cost effective results and, where appropriate, early resolution. Overall claims spend is always a focus. Some claims are, of course, to be robustly defended and for those matters that do progress to litigation we are accustomed to managing those claims through to resolution. We often work closely with insurers' appointed solicitors and external counsel, encouraging a collaborative approach to dispute resolution.
We also frequently consider the extent of cover in the context of FCA and other regulatory investigations. We have extensive knowledge of Past Business Reviews, typically overseeing the work being undertaken and working to reconcile the interests of the regulator and insurers. We do so in the UK and have also participated in international arbitration proceedings in other jurisdictions.
Losses in the UK, Europe, Latin America and the Caribbean are handled from our London office. Losses in the Middle East, Africa and Asia Pacific are handled from our regional office in Dubai.